Coastal Health Center, at 37 Commerce Park, Ellsworth, is now a Bucksport Regional Health Center practice.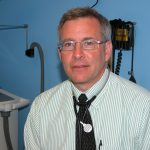 Dr. Stephen Nightingale has joined our team and is seeing patients at Coastal Health Center. We're happy to allow Dr. Nightingale to continue providing the high-quality care he's known for in Ellsworth.
We are accepting new patients at our new Ellsworth location and welcoming back former patients. We are also accepting new patients in Bucksport.